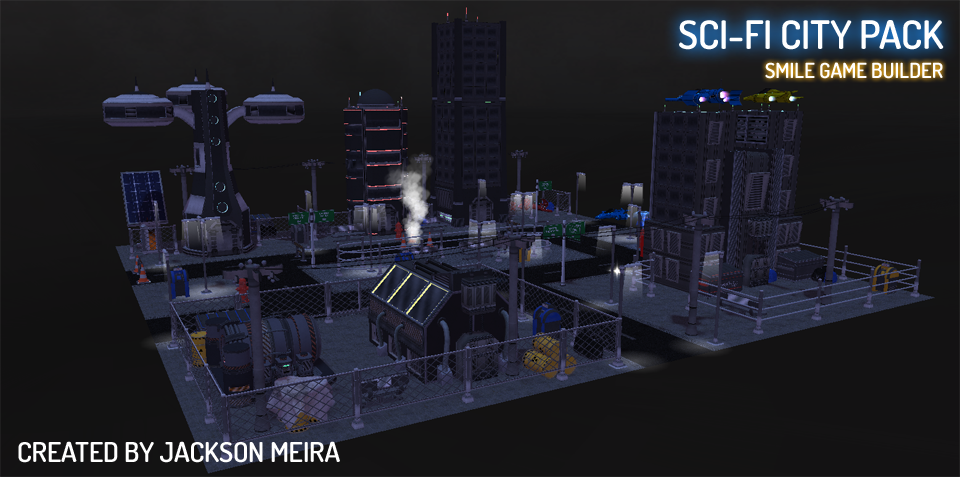 SCI-FI CITY PACK
A downloadable asset pack
Attention: Read all description before buying, there will be no refund. This content pack has been canceled.

Preview:
Eletric Fence:
Full image gallery in high quality - Click Here!

---
Inspired by several games, I present you my version of a SCI-FI mega city. I have dedicated my free time building this content pack exclusively for Smile Game Builder.
With this content pack you will be able to build diverse scenarios.
Check out some functions:
---
Modular parts: As everyone already knows, I am a fan of modular parts, I like to give the user the chance to be able to create their own constructions without relying on 3D modeling and all texturing work, and therefore, this function is present in this package.
3D floors: Although it is more practical to create your maps with the standard floor of the SGB, your scenario will not be very pleasant due to the low image quality, it may be interesting in some cases, but not in all. In this content package, you will be able to build your floors with a superior quality, this is only possible by creating the floor with 3D mesh, you will have a little more work to do this, but the result is infinitely better. 3D floors are not mandatory, you can choose what you think is most appropriate in your project. In this same content package, there are some standard floors inherited from the old SCI-FI Pack and some new ones.
Neon Effect: This is certainly the most amazing effect of this content pack. Initially it would not be released, but as I am a very curious person, doing some tests, I ended up noticing that if I combined different types of colors and image modes, it would achieve an effect similar to that of neon. Your night maps will look more lively and interesting. Several objects have this effect, and almost all buildings have their special effects. To make this much more dynamic, each building has 5 types of colors, giving the user the possibility to create several maps with different colors. The neon effect will also appear on daytime maps, but the true neon effect will only be visible on nighttime maps.
Spaceships: As it could not be missing, space ships are also present in this content package. Each spaceship has 5 types of colors to further diversify your scenarios. Spaceships have smooth animations and also have a neon effect.
Lighting: Lighting effects give more life to any project, in this content pack you can light up your environment with some varied lampposts, each of which has a position. Combining some techniques, you will also be able to create some defective lampposts, causing them to be flashing randomly, giving that air of suspense on some maps.
Energy: To power your SCI-Fi mega city, you will have several ways to get energy, either with generators, solar energy, energy pole. In addition, you can store energy in giant batteries and connect to any building. If you have something of value and want to protect, rest assured, you will also have electrified fences.
---
These are the main functions that are present in the current project. But it doesn't stop there, as with most of my projects, this content pack will be constantly updated indefinitely. Give your feedback and place orders, your ideas will make this package much more interesting.
---
Future updates:
As mentioned earlier, I'll be releasing several updates for this content pack. I intend to launch weekly updates always focusing on centralized content, for example, the initial package is basically used to create external maps, but what about internal maps? The first major update is sure to be focused on the indoor maps. I also intend to launch exclusive maps for sewers, underground stations, abandoned factories and more.
This project has been paused, read this!
---
About Textures
Collection Texture packages by Philip Klevestav are licensed under a Creative Commons Attribution 3.0 Unported License.
No changes were made to the textures.
---
About payments
All payments are accepted manually, please buy and wait, do not buy twice, as payments will be doubled. All duplicate payments are declined and returned.
Questions or problems, send a direct message on facebook: Assets Smile Game Builder
---
You are not authorized to distribute freely or commercially the files contained in these package. They are for exclusive use in your personal projects, be they commercial or non-commercial.
---
Full image gallery in high quality - Click Here!

Attention: Read all description before buying, there will be no refund. This content pack has been canceled.

Purchase
In order to download this asset pack you must purchase it at or above the minimum price of $25 USD. You will get access to the following files:
SCI-FI CITY PACK - V1.0.2 - (MAP-INCLUDED).zip
72 MB