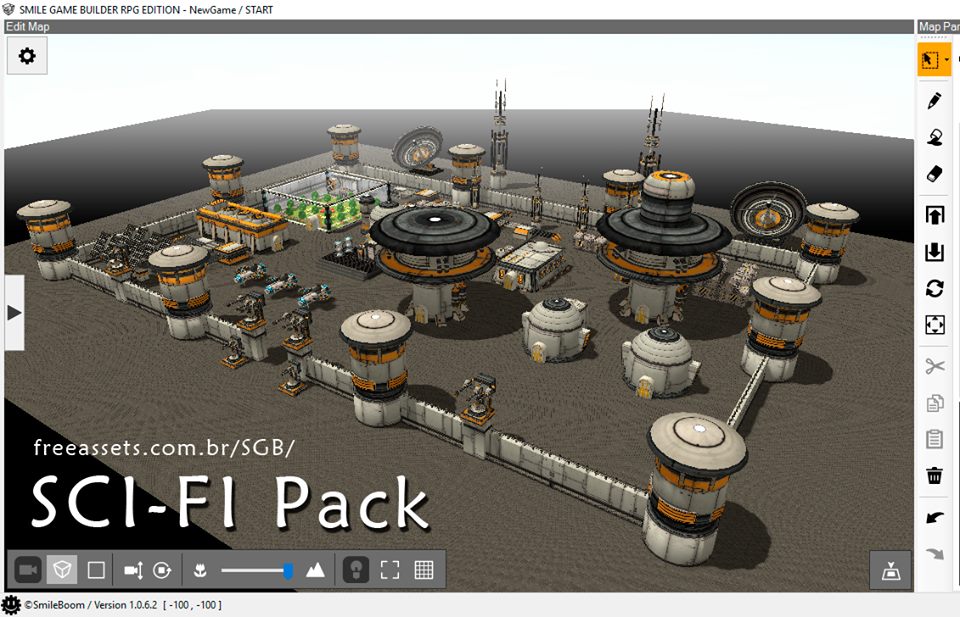 SCI-FI Pack + Japonese Pack - Smile Game Builder
A downloadable asset pack for Windows
Updated!
The Japanese-themed content package was added as part of this purchase. Enjoy and buy two packages for the price of one.
Japanese package, contains 69 3d models varied, among constructions, boards, decorative.
---
- - - IMPORTANT - - -
Due to the transaction fees, itch and paypal, the value of this package has changed. I apologize for this, if you can not buy at the moment, wait for promotions or sweepstakes.
About 5-10 varied models will be added each month to the SCI-FI Pack. The new models will be created from 01/03.

---
In this first SCI-FI package, it contains the following items:
---
10 Floor / wall blocks
5 Stair blocks
111 3D objects (Constructions, floors, decorative, animated objects, doors, bridges);
69 3D models with Japanese theme added - 27/02/2017 -
31 3D models with Japanese theme added - 05/03/2017 -
---
In this first Japonese package, it contains the following items:
This package does not contain any characters or monsters. Models of this type are being produced by artist Jacob. You can check out their work on the Facebook page: https://www.facebook.com/Jacobs3DArt/. It will make available its 3D models with SCI-FI theme in the future. Wait!
---
Before buying, I ask you to check out all the data in this package on my Facebook page: https://www.facebook.com/freeassetsSGB/ - After the purchase is made, there will be no refund.
---
No templates in this package contain configurations for nighttime textures. There is only one type of texture that does not change, regardless of the map time setting.

An exclusive forum for this package is available at this link: http://freeassets.com.br/FORUM
All questions and requests should be sent to the forum. Create your free account and send us your suggestions or report a problem with the models.
More information is contained in the SCI-FI package files.

---
This template package is unique to the Smile Game Builder software. If you wish to buy to use in another software, please contact: http://freeassets.com.br/SGB/contact.
---
Exclusive Models
The first 20 buyers who acquire the SCI-FI package will automatically guarantee exclusive models. The models will be made and shipped after the release, I still do not have a precise date for that. It's a way of thanking you for your support.
---
About Textures
Collection Texture packages by Philip Klevestav are licensed under a Creative Commons Attribution 3.0 Unported License.

No changes were made to the textures.

You are not authorized to distribute freely or commercially the files contained in these packages. They are for exclusive use in your personal projects, be they commercial or non-commercial.
Purchase
In order to download this asset pack you must purchase it at or above the minimum price of $25 USD. You will get access to the following files:
SCI-FI Pack - V1.0.zip
8 MB
File Fixed - JP Pack 1.0.zip
21 kB
Files Fixed 2 - JP Pack 1.0.zip
1 MB
JP Pack - Indexed Textures Colors 256.zip
3 MB
JP Pack Full - V1.0 + V1.1 All Files Fixed-UPDATE 1.zip
6 MB
Bonus-Locomotive.zip
564 kB